Tailored Patient Care Enables Aging in Place
Bloom helps patients spend more days in the comfort of their home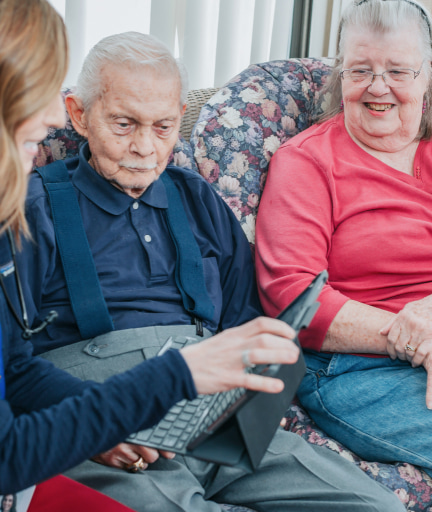 At Bloom Healthcare, our unwavering commitment lies in putting our patients at the forefront of everything we do. Our team of highly skilled medical providers bring compassionate care right to your doorstep. By providing care in the comfort of your home, we aim to create an environment where you feel safe, comfortable, and supported. Bloom understands that each patient is unique, and that's why we customize our care based on your goals. Our team of medical providers invests time in getting to know you personally, building a trusting relationship, and understanding your specific healthcare needs and goals. This personalized approach allows us to provide the highest quality of care, while focusing on your well-being and ensuring the best possible outcomes. It brings us great pride to report that Bloom patients experience 30% fewer hospitalizations while under our care; this remarkable statistic is a testament to the effectiveness of our patient-centered approach. By providing comprehensive care in the home, we can better manage chronic conditions, prevent complications, and provide timely interventions when needed.
We firmly believe healthcare is a collaboration, and we value the role of families and caregivers in the journey. We actively encourage family involvement and we recognize the vital support system you provide.
Bloom Delivers an Exceptional Patient & Family Experience
Convenience
Comprehensive in-home care
Build trust with your provider
Same day and after hours care available 7 days/week
Superb PCP's
Providers are specially trained in caring for elderly patients and those with multiple chronic illnesses
Training, protocols, and oversight provided by experienced and award-winning physicians
Care plans dedicated to what matters most to the patient
Care Management
Bloom offers care management services to patients participating in Medicare's CCM program
Our CCM team is comprised of numerous certified and licensed professionals including NPs, pharmacists, and social workers
Patients participating in CCM programs have lower rates of hospitalization and emergency room usage and spend less time in nursing homes compared to their peers
Behavioral Health Specialists
Bloom patients have access to a collaborative care team of behavioral health experts providing best-in-class psychiatry and behavioral health resources:
Primary psych and early dementia diagnoses
Uniform assessments, talk therapies, medication management
Advanced dementia care plans
Who can become a Bloom patient?
Bloom specializes in treating seniors with chronic conditions. Typically those that are elderly, struggle with one or more activities of daily living, and have trouble getting out of their homes to see their doctor could benefits for our services. Commonly treated conditions include:
Heart Disease
Dementia
Lung Disease
Kidney Problems
Arthritis
Mood Disorders
Parkinson's Disease
Diabetes
How can I or a loved one become a Bloom patient?
Complete a referral form here or call 1 (303) 993-1330 with any questions. Our intake specialists will contact you shortly in order to schedule your first appointment.
How do I schedule an appointment?
If you or your loved one are already a patient, just call 1 (303) 993-1330 and we'll be happy to schedule an appointment. If you're new to Bloom, simply complete the new patient paperwork here and our scheduling team will reach out shortly to set up your first appointment.
Why should I or my loved one get primary care at home?
1) If you or your loved one has trouble getting to the doctor's office, primary care at home may be the right option for you.
2) Our providers specialize in high-touch primary care, seeing you more often and for more time in your own home.
3) This allows us to provide superior service and superior outcomes when compared to care delivered in a doctor's office.
How do Bloom's services benefit patients?
Bloom's high touch care model leads to fewer hospitalizations, meaning our patients spend more days at home. Patients who are admitted to the hospital are less likely to be readmitted which allows for happier and healthier patients. 
What insurances does Bloom Healthcare accept?
Bloom Healthcare is able to accept Medicare, most Medicare Advantage plans, and some commercial plans. Call 1 (303) 993-1330 today to see if Bloom accepts your insurance.
Would you like to learn more?
We would love to show you how we can help
We understand that choices like this can prove difficult for yourself or for your loved ones. We would love to share with you the entire process and tell you how we can help.