Bloom brings high-touch, innovative medicine to those living at home with chronic conditions.
Bloom's model helps patients thrive at home, leading to higher occupancy, less turnover, and fewer send-outs for our partners.
Bloom's model helps patients thrive at home, keeping them out of the hospital and allowing them to enjoy more time with those they love.
Population health, outcomes in the home
Bloom providers prioritize data in clinical decision making, helping to drive superior outcomes for our patients
More annual days at home for bloom patients
Lower Rates of ER Admissions
Lower Rates of 30 Day Re-admissions
Lower Acute Impatient Admissions
We
love

what we do &
we are

proud

of our work
Our providers are committed to delivering high quality primary care services with integrity and dignity. We understand and respect that our patients have a voice and deserve to be heard. We balance the medical conditions of our patients with their personal goals.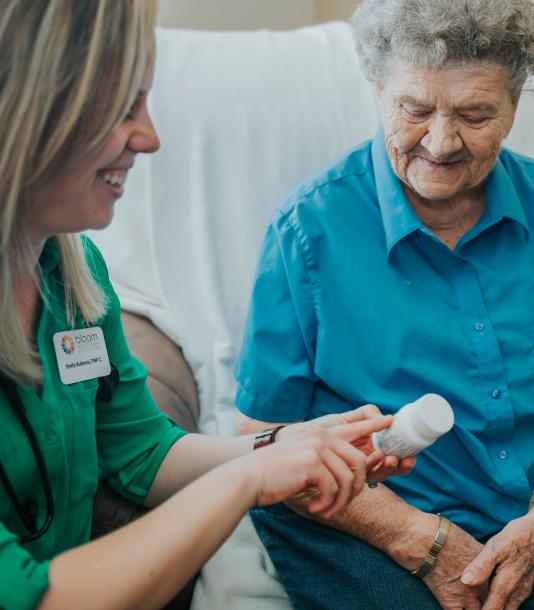 Bloom's In-home Primary Care delivers:
Personalized primary care with medical providers trained in caring for seniors
24/7 access to providers through our after hours on-call service

On demand care with weekend and telehealth coverage

Counseling and care for patients suffering from memory loss
Evidence-based specialty care for chronic conditions
Annual wellness visits with a focus on care planning, preventative care, and accurate accounting of a patient's current conditions
Management, education, and clarity when dealing with complex medication lists 
Coordination of partner services, including mobile diagnostics, home health, and specialist care
Our Care Management Team provides:
Coordination of care between in-home visits, including help with transitions across care settings
Access to multi-disciplinary care, including Bloom pharmacists, social workers, and nurse specialists
We offer Specialized Wound Care including:
Bloom's dedicated wound care team, with medical providers specially trained in acute wound needs 
Customized treatment plans tailored to each patient's specific wound types and medical history
Our Behavioral Health Team provides:
Integrated, collaborative counseling and coordination in concert with primary care
Mental health professionals skilled in providing medication management, specialist collaboration, and supportive talk therapy
Bloom's Integrated Hospice offers:
Individualized care plans that honor and respect the wishes of patients and families
A coordinated and collaborative approach with primary care intimately involved in patients' end of life care
Our Safe Placement and Move-in's ensure:
Safe and successful transition to Bloom partner communities when our patients require more support
Care with a familiar face; your Bloom provider ensures a consistent and personalized care experience
Individualized care plans
30% reduction in hospitalizations
Providers available 7 days per week
Coordination with families & caregivers
Remain with PCP through hospice
Proven care models & outcomes
Robust interdisciplinary support
Salaried base compensation
Culture-driven workplace / top workplace four years in a row
Increased length of stay at communities
Enhanced community wellness
7-day and after-hours visits
Proactive health measures
Outstanding customer service
Reduced burden on marketing team to move patients in
Easier for wellness teams to care for patients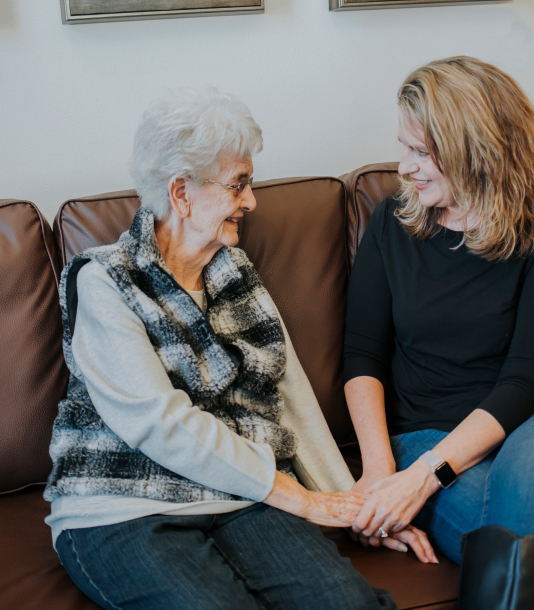 See what our patients have to say
"I was in healthcare for 35 years and I can't tell you how impressed I am with Bloom Healthcare. Bloom has been a godsend for my family. We began with Bloom after moving my mother to Balfour Riverfront. Lauren, my mother's PCP, has provided excellent care for my mother. Lauren has always quickly responded to any issue I've asked her about. Recently we had an emergency situation. We called 911. Lauren happened to be onsite in Balfour at the time. She was as quick to get to us as the EMTs were. Thanks to Lauren's experience and professionalism this bad situation was managed well and resolved with a good outcome."
"So grateful for Bloom Healthcare! My mother is not mobile and they do everything, from blood work to x-rays in the comfort of our home. Thank you so much!"
"My aging mother was falling through the cracks, in and out of assisted livings, rehabs after falls etc. I found Bloom and they came in and stabilized all! John and Angela as PA's were so caring and thorough. The staff at Bloom was so responsive, answering all questions promptly, and explaining things well to my mom. We were able to keep my mom home for awhile, but as she aged Bloom followed her to assisted living and beyond with an amazing continuum of care. I highly recommend Bloom, they are a great teammate in caring for our seniors, and a great resource especially during days of Covid!!"
"Since moving my Mother to assisted living we have been using Bloom Healthcare to manage her care. She can still go see specialists as needed but Bloom has been wonderful to work with. I can always call for a concern and they follow through doing blood work or x-rays in her room then calling in needed prescriptions. They manage her med refills, and oversee her care at a level that brings me much peace. They are good at keeping me informed of what is needed and happening for my Mother. Thank you Emma and Emily!!"
"Bloom is an incredible organization. They provide high quality care to patients and particularly serve those patients living alone at home or those living in a senior living community. The Bloom Team is empathetic and compassionate and always work towards treating the whole patient and takes into consideration the patient's living environment and social dynamics. The Team also works diligently to collaborate with other providers and services involved in the care of those patients. The patient is always their priority. Thank you for all you do Bloom!"
"As a Physical therapist assistant working in home health care I can't say enough about Bloom healthcare (previously PHC) and have been working with them for 4 years. When calling the office, their receptionist Sandy is always very pleasant and helpful getting me to who I need to speak with when regarding one of my patients. They're response time for our plan of care approvals are always quick which allows us to provide the additional medical support our mutual patients and residents need to reduce their risk of hospitalization. Thank you Bloom for being amazing partners for primary care to our shared patients."
Ready to get started?
Talk to us today